The 220Bi As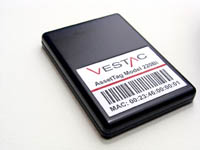 setTag Family is an adaptable and reliable RTLS tag suited to a broad range of applications. The basic tag is available in three form factors: standard, compact and with mounting wings. Additionally, Vestac's Engineering Services Group (ESG) will work with you to develop other form factors for your unique needs including temperature sensing tags.
So, whether you are tracking people or property, the 220Bi is an ideal solution. The 220Bi AssetTag has been certified by Cisco under the Cisco Compatible

Extensions (CCX) program ensuring that Vestac tags will seamlessly integrate with the Cisco Unified Wireless
Network
Features
Multi-Modal Wi-Fi + Infrared
802.11 b/g/n Compatible RF with Proprietary Infrared Signal Detection
Multiple Form Factors
The Vestac AssetTag 220Bi can be easily incorporated and affixed to a variety of asset types such as medical devices, manufacturing equipment, IT equipment, shipping containers, vehicles and carts.

Standard format: 2.75″ x 1.85″ x 0.31″ (70mm x 47mm x 8mm)
Compact format: 1.85″ x 1.46″ x 0.55″ (47mm x 37mm x 14mm)
Flexible Mounting Option
The 220Bi tag can be affixed to assets using a variety of mounting options including adhesive tape, Velcro, tie-wrap, or be placed inside a holder.
Integrated Motion Sensing
220Bi includes a built-in motion detector that reports whether the tag is in motion or stationary. The motion sensor is designed to optimize and maximize battery life by allowing a higher transmission rate when the asset is in motion and lower transmission rates when an asset is at rest and/or remains at rest for a period of time.
Storage Mode
A power optimization feature places the tag into "Storage Mode" when the tag has been stationary for long periods of time. Storage mode will chirp once every 8 hours.
Long Battery Life
A powerful lithium polymer battery provides greater than 5 years of battery life under normal operating conditions. An advanced power optimization and power management design ensures maximum battery life under a variety of transmission and usage scenarios. The 220Bi tags transmit battery status and low battery alerts to facilitate asset monitoring by software applications and simplify maintenance.
Ultra-Secure Provisioning
Configuring and programming of the 220Bi is performed using Ultra-Secure Infrared Provisioning.
Infrared Functionality
The 220Bi uses the Wi-Fi infrastructure for both RTLS and as a data path for relaying pin-point positioning information received in IR signals transmitted by the Vestac 330Xi IR Transmitter. No additional infrastructure is required.
Wi-Fi Compatibility
Vestac tags are IEEE 802.1 1 b/g/n compatible and are certified by the FCC to not pose interference or frequency concerns for wireless equipments or devices.
Specifications
Data
Wi-Fi Compatible 802.11 b/g/n
DSSS (Direct Sequence Spread Spectrum)
Max RF Output Power up to +19.8 dBm
Frequency Range: 2.412 -2.462 GHz
IR Receiver: Compatible with Vestac 330Xi IR Transmitter
Interface
DC Power: 3.6V—5.0V Customizable Battery
Antenna: Internal, omni-directional
Configuration: Ultra-Secure Infrared Provisioning
Configuration
Transmit Power: -5.0 dBm to +17.8 dBm
US Channels: 1, 6 and 11
At rest transmit interval: From 60 seconds to 8 hours
In-motion transmit interval: From 2 seconds to 4 minutes.
Storage Mode transmit interval: once every 8 hours
Physical
Weight: 50 grams
Dimensions: 2.75" x 1.85"x 0.31" (70mm x 47mm x 8mm)
Battery life: > 5 years under normal usage.
Mounting options: Permanent adhesive film.
Environmental
Operating: 0 to 50 °C / 32 to 122 °F
Protection: water proof, IP67/NEMA 6
Certifications
FCC Part 15, subpart Class C
Cisco Compatible Extensions (CCX) certified