The 330Xi ena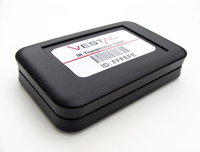 bles precision RTLS applications on a basic Wi-Fi network at an affordable price.
If your current Wi-Fi network was designed for basic data and/or VoIP service, most manufacturers will recommend deploying 30% more wireless access points before attempting a location-based application. If you need room level accuracy, you have to budget for exciters and their installation. On an enterprise network, one access point runs about $2,000 (excluding installation and cabling) and one exciter will set you back about $1,500 (excluding installation and cabling).
Or, you could use the 330Xi. Battery-operated and requiring no cabling, the 330Xi emits an infrared signal that is picked up by the 220Bi tag and transmitted to the network as part of the tag's Wi-Fi data packet. Immediate, sub-room level accuracy at a fraction – really, about 5% – of the cost of the other guy's RTLS "upgrade". And, going with Vestac doesn't just make you smarter. It means you can afford to tag and track all your assets and people – not just the really expensive stuff!
Features
Highly accurate sub-room level detection
"Deploy and Forget"
Nothing to manage or configure
Battery Powered
Up to 2 years of useful life from a single battery
No Cabling or wiring installation
Lowest total cost of ownership (TCO) and shortest time to implementation
Unique Identifier
Each 330Xi has a unique, preset identifier to map its location
Specifications
Coverage Area:
Up to 15 foot radius (~150 square feet)
Communication:
Proprietary Infrared Protocol
Power:
Commercially Available Lithium Batteries
Up to 2 years of battery life
Physical:
110mm (Diameter) x 63.5mm (Height)
4.33" (Diameter) x 2.50" (Height)
Environment:
Operating: 0 to 50 °C / 32 to 122 °F
Humidity: 20 – 95% non-condensing
Protection: Splash proof, IP53/NEMA12
Certification: FCC Part 15